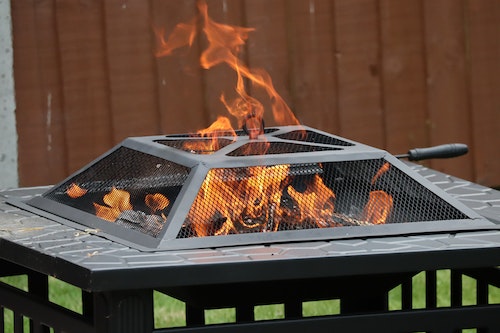 Fire pits are phenomenal backyard additions. They provide warmth and can be a dynamic centerpiece on your patio or as a fixture in your yard. Considering adding one to your backyard? Check out these basic reminders to ensure you get the perfect one for your needs.
Consider fire pit fuel types
It's good to think about the type of fuel your pit may need. Common types include: wood, charcoal and propane. A wood-burning fire pit is the closest to creating a campfire atmosphere. However, if you want more control over the flame strength, propane fire pits may suit you more. If you plan to grill over your fire pit, you may find charcoal more to your liking.
While precautions should be taken for any kind of fuel source, ensure extra precautions are taken with propane tanks, as they carry certain hazardous risks. Always refer to the label of your fuel source for handling instructions and precautions.
Take note of the shape & style
Consider the outdoor space you're working with and the aesthetic you want. Fire pits come in many shapes and sizes. If your property is close to your neighbor's, perhaps a smokeless fire pit would better suit your needs. If you want a more countryside feel, a rustic stone pit is a great option. Consider new metal designs for a chic appeal.
If you're working with a smaller patio space, try a rectangular pit. For a more traditional appeal, you may want to go for a round pit. Heat will disperse evenly around the perimeter with a circular shape, whereas a rectangular shape will offer more structure for seating and more possible grill layering options for cookouts.
Review the building materials
An outdoor fire pit is made to resist high levels of heat. Many fire pits are made of stainless steel. You can find pits made of various other metals; namely cast iron and aluminum.
Stone fire pits are very traditional and can be made with just a few items. One of their more attractive features is how great they are for those who love DIY projects. If a stone fire pit appeals to you, try picking up a kit at your local hardware store or finding in-depth instructions and supply lists online.
Fire pits in backyard spaces are great ways to revitalize your yard while adding function and style. Whether you're hoping to make delicious s'mores with one of many wood-burning fire pits or simply want the warmth of a crackling fire surrounded by loved ones on a beautiful night, a fire pit is an excellent addition to nearly any yard.